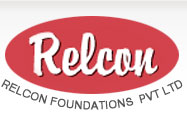 Door No.35/3078 - H
1st Floor Pukalakkattu Complex
Palarivattom, Kochi
Tel:0484-2348420, 2336188
Mobile : +91 98470-30938
Email: tkav@relconfoundations.com
The company was incorporated in 1987 as per the companies' act of 1956. Ever since its inception the company got encouragement from both private and public sector and has completed a number of major projects all over India.

Our satisfied clients list includes in the public sector, Hindustan Latex Limited, ONGC, Nuclear Power Corporation, Dept of Space Sriharicota, Tamilnadu Electricity Board, Kerala State Electricity Board, Escotel Mobile Communications Limited, R.P.G Transmission Limited, A.R.M Limited, Hindustan Insecticides Limited, Indian Oil Corporation Limited, Bharath Petroleum Limited, Hindustan Petroleum Limited, Southern Railway etc.

Also we have completed a number of projects for private sector undertakings like Travancore Electro Chemicals Limited, Appollo Tyres Limited, Kerala Solvent Extractions Limited, Jayalakshmi Silk House Ernakulam, Bhima Jewellery Ernakulam, Mermaid Days Inn (MIL), St.Marys Group Kottayam (Hotel Windsor Castle), Kerala Management Association, 2.3 3rd paragraph – Kerala Management Association, Lulu project, Mfar Realtors, TATA Realty, Sobha Developers, Infopark, Technoparketc.

The Relcon Foundations has its expertise in land development projects, Soil Investigation including laboratory facilities, providing pile foundations of any category and super structure construction of any magnitude including factories. We have Private Limited, Prime Property Developers, Link India Limited, PRS Builders, B'Canti Homes,M/s Kishore Kumar Gokuldas and other Chennai, Zoom Developers, Mumbai, Mahatma Gandhi Medical Collage at Pondichery, Kidwai Hospital, Bangalore etc. We have also provided pile foundation for 20 bridges for the track doubling work for Southern Railway from Shornur to Mangalore and Railway underbridge in Bangalore. The company 's expertise also includes for providing Microwave Tower Foundations and Structural erections for Escotel, BPL, RPG and KSEB. The company has got Pan India Presence and has undertaken Projects in UP, Orissa, Tamil Nadu, Pondichery, Karnataka, Goa & Kerala.

OUR CMD T.K.ALEXANDER VAIDIAN
For us every creation is an innovation says T.K. Alexander Vaidian, the Chairman & Managing Director of Relcon Group. seo company in chennai

We had a beginning way back in 1978 by name and style Real Estate Development and Commercial Agencies (P) Ltd. It was the fulfillment of the dream of a young civil engineer with full of dynamism and sky toping ambitious - T.K.ALEXANDER VAIDIAN ( a 1965 graduate in Civil Engineering from Trivandrum Engineering College, Kerala University). Having served in different parts of the world for the cause of foundation engineering and civil construction, he came back to India with a reservoir of experience in 1986. digital marketing company in chennai


His 50 years of track record in different walks of the construction industry from soil testing to after sales service. Relcon is a known name in housing industry. With an array of housing projects in Kochi, Trivandrum and Thiruvalla, Relcon boasts of catering to all the segments of home seekers. Apartments, villas, housing colonies, commercial floors in a variety of budget and sizes are on the rack of Relcon Group. More than 500 happy families across Kerala is a solid testimony to our growing customer base. "Living upto the expectations of customers" is the key word in our success record - says Mr Alexander. We have a team of hard core professionals to supervise at every stage of construction and for them quality is an obsession. Kerala is a chain of mini and minor cities throughout, having identified the growing demand for commercial and residential units in all these places we have plans of expansions into the mini towns and cities of Kerala like Kozhikode, Palakkad, Thrissur, Alleppey, Karunagapally and so on..