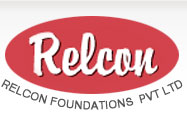 Door No.35/3078 - H
1st Floor Pukalakkattu Complex
Palarivattom, Kochi
Tel:0484-2348420, 2336188
Mobile : +91 98470-30938
Email: tkav@relconfoundations.com
We can provide specialized services for Drilling & Grouting, Anchor Stressing, Diaphragm Walling and any other specialized foundation related works and can also undertake rectification work for building having foundation problems, including touch piles.
Lakeshore Hospital, Ernakulam
Radco Group, Thiruvalla
Skyline Builders, Ernakulam
Mansions, Trivandrum
Gryphons, Kozhikode
MES Hospital, Calicut
Heera Constructions, Trivandrum
Mfar Realtors
Tata Realty
Lulu Group
RAFT FOUNDATION
Trivandrum
LATEST TRENDS IN PILING & FOUNDATION ENGINEERING.
Preamble : Food, Clothing and shelter are the basic needs of human beings from the beginning of life on earth and the human race are vying each other to achieve the same. Because of this all the good lands on earth are used for horizontal developments during old civilizations and the developments where mainly near River Banks and Sea ports. Because of the shortage of land Urban areas vertical growth of buildings have become a necessity. The earlier structures in the world having significant heights are Qutab Minar in Delhi and Leaning Tower of Piza in Italy. Techniques have been evolved after 2nd World war in European and American countries for improving the various types of foundations to take up under ground railway work and constructing high rise buildings such as Sears Tower in Chicago, World Trade Centre in New York, Twin Towers in Malaysia and Burj Dubai Tower in Dubai business district which is above 150 stories and 800 meter above ground level. To support these types of structures deep and large diameter piles are essential which can be done by direct mud circulation method or by Rotary Rigs supported by bentonite slurry system. Both the methods are approved by British and Indian standards and are used in India & abroad depending on the speed by which the project has to be completed. Rotary method has got more speed when compared to DMC method and the disadvantage is that it cannot cut through hard rocks effectively. The DMC system is widely used IN India for providing pile foundations for buildings up to 50 stories (150 meters) and the piles can be done upto depths of 60 meter from ground level and diameters can vary from 500 to 1500mm. This is cost effective and we recommend this system for India and abroad for diameters from 500mm to 1500mm and depth up to 60 meters.

Types of Piling : Because of the agricultural and Industrial revolution building rules has come in to effect in prominent towns of Europe and the 1st town planning act of UK is in 1919. Since the building has to be built on a particular plot limited by size various foundation techniques has come in to force in UK in the year 1905 by a company called CEMENTATION. Ever since 1905 Engineers found new and new methods and basically every method consisted of boring holes up to rock with various techniques lowering, reinforcement cages and concreting. The developed form of foundation engineering after 2nd half of 20th century are as follows:-
Undreamed compaction and ordinary piles.
Bored cast in situ DMC piles.
Driven cast in situ piles.
Pre-cast concrete piles.
Bored cast in situ to Rotary piles.
Among the above undreamed piles are mainly used for supporting light structures of 5 stories and below. For DMC piles to take heavy load the pile has to penetrate in to rock atleast 30cm to 50cm or 1D or 1.5D depending on the intensity of loading on the pile. The pile capacity is mainly decided as per the structural strength of concrete or the safe bearing capacity of the founding strata. If the concrete is weak and the founding strata is strong there will be structural failure of the concrete or if it is vise versa the founding strata will fail.
The method of piling from place to place will vary such as dia meter, depth etc. and in Trivandrum generally the depth is 5 to 20 mtrs, in Kochi depth from 20 to 60 mtrs etc. In Kochi some of the areas where rock is not available, the pile is rested on coarse sand strata where the N-value is more than 100. Before taking a decision to rest the pile on sand the thickness of the sandy strata should also be analyzed, because the sandy strata will be very thin and if clay strata is under laying the piles will not take the desired load.


Method Statement - DMC Piling :
For executing DMC piles (Direct Mud Circulation piles ) method which is approved as per IS 2911 and British Standards under specifications of bored cast in situ piles. The bore holes will be advanced by chisels weighing above 1000kg by circulating bentonite slurry using a 20 HP vertical motor and pump. Because of the impact of chisel the cuttings will be brought out by the bentonite slurry and the bore holes will be advanced to the founding strata which is about 15 to 20 meter in depth. The founding strata can be rock or dense sand having N value > 50 as per structural design. To prevent the side collapse and caving in, a guide casing of 500 -1500 mm dia and 1 to 1.5M depth will be fixed on the top of the bore hole and this will be withdrawn after concreting is over. Once the bore hole reaches the final depth the chissel will be kept for about 15 minutes to clear out all the cuttings from the bore hole. After this the chissel will be removed from the bore hole and steel cages will be inserted in to the bore as per the structural design and tremmie pipe of 8 inch dia meter will be inserted to the center of the cage. After the insertion of tremmie pipe, the bore will be thoroughly cleared by using bentonite slurry pumped through a 20 HP pump. Once the bore is clear ready mix concrete of required specification will be poured through the funnel fitted on the top of the tremmie pipe and the concrete will be made to overflow from the bore till all the laitance is removed from the bore and good concrete appears on the top. The theoretical volume and actual concrete used will be measured and recorded including details of reinforcement etc. on a bore long which forms the basis of measurement between the contractor and client.


Method of Rotary Piling :
Because of the requirement of noise free and vibration free piling in Urban areas a new technique has come called rotary piling. This is very expensive but we can save a lot of time and noise from the neighbors. Now a days most modern rotary rigs are available costing from Rs. 2 crores to Rs.15 crores, and these rigs can do piles from 500 mm to 3000mm dia depth up to 60 mtrs. These types of piling are mainly used for industrial purposes where large areas are available for development and time is the main factor. The capacity of the rigs are classified based on torque it can produce and it various from 7 to 40 and this is designed based on hardness of the rock it can cut. The rock is mainly cut by Rotary method using Tungsten carbide bits or diamond bits. If the rock is too hard then it is cut by using core barrel using Diamond bits and this is very expensive. The production of Rotary rigs has to be a minimum of 100 mts per day to cover the cost and if the production is low, then the cost will increase. Also in transporting and deploying these machines wide approach roads are required as the machine weights from 40 tons to 70 tons and the length of the Kelly bar from 12 mtrs to 15 mtrs. For residential buildings now a days Hydraulically operated rotary rigs are used mounted on lorries and these also give desired result and less expensive when compared to modern rotary rigs.


b) Method of testing Founding Strata:The basic method for ascertaining the strata for founding is standard penetration test and if the N-value is more than 100, then it is considered as reasonably good founding strata for piling.


c) Concrete : The concrete mix used for piling is M25,M30,M35 etc. in India and outside the country M40 is the minimum standard for piling and it goes to M80. The strength of the concrete as ascertained by cube test after 3 days, 7days, 21days, 28days, etc. The workability of the concrete is assessed by taking the slump at site it should be from 150 to 180mm.
d) Pile test : The piles are tested for the following
Initial vertical load test
Initial lateral load test
Initial pullout test
Routine vertical load test
Routine lateral load test
Routine pullout test
Dynamic load test (Nondestructive)
Integrity test.
As per the Indian standard 1½ times the design load is tested and the settlement of the piles should be below 12mm.The relevant IS code is as follow :IS 2911 Which can be referred for this.
PROBLEMS & PROSPECTS IN PILING
PROBLEMS DURING PILE DRIVING OF PRE-CAST PILES AND BORED CAST IN SITU PILES
Piles With Blow Count Above Minimum Pile Penetration Requirements
Piles Driving Significantly Deeper Than Estimated
Abrupt Change or Decrease in Blow Counts for Bearing Piles.
Blow Count Significantly Lower than Expected.
Lateral Movement of Previously Installed Piles When Driving New Piles.
Piles Driving Out of Alignment.
Piles Driving Out of Location.
Pile Obstructions at Depth.
Concrete Piles Develop Partial Horizontal Cracks in Easy Driving.
Concrete Pile Spalling or Slabbing Near Head.
Concrete Piles Develop Complete Horizontal Cracks-Easy Driving.
 
Concrete Piles Develop Complete Horizontal Cracks-Hard Driving.
Concrete Piles Develop Partial Horizontal Cracks in Easy Driving
Steel Pile Head Deforms Timber Pile Top Mushrooms.
Unexpectedly Low Blow Counts During Pile driving.
Higher Blow Count than Expected.
Lower Blow Count than Expected.
Diesel Hammer Stroke Higher than Calculated.
Necking of piles due to lack of proper flushing and presence of large lumps of marine clay and phenomenon called "Reprographic Clay". I have personally experienced this problem for underreamed piles in Techno Park TVM and for DMC piles in Cochin Island.
Lack of sufficient concrete cover and the standard should be 7.5 cm on either side of reinforcement.
Lack of flushing and failure to remove the debris from the bottom of the pile and if proper flushing is not done the pile will fail at the time of testing.
Breakage of drill rod or loosing of the chisel in the bore hole due to wear and tear or braking of the wire rope.
Absence of bulb formation in underreamed piles.




Problems faced in Dynamic Testing:

Test Load designed for is not achieved.(reason) negligence in piling like not using specified concrete grade, reinforcement as specified in specification.
Improper arrangement. For this you can refer method statement of dynamic load test
Piling done shorter compared to what specified.
Piling technique followed for soil condition is different from what is required.




Problems faced in Integrity Testing:

Test report showing less length (reason), less wave speed, Crack, bulging and Necking. It is due to following reason.
Putting reinforcement shorter irrespective of specification
Using improper concrete .
Presence of foreign particles like grass, soil, wood etc.
Test done before proper curing of the pile. Pile should be tested for integrity after 14 to 17 days of piling (Days depends up on the grade of concrete.)




SOLUTIONS FOR PROBLEMS IN PILING

Installation of correct pile joints and preventing slippage at the time of driving
The common problems are occurring due to faulty equipment.
Lack of trained workers
Lack of supervision or impractical specifications.
Improper flushing media( media can be Air, Water, bentonite or polymer)
Most of the problems can be solved with proper supervision and guidance by experienced staff at site.
If drill rods or chisels are lost in the bore holes, the same can be recovered by fishing using proper tools or employing experienced divers.
Divers can go into the bore holes from 600 mm dia onwards and depth up to 150 meters.




PROSPECTS IN PILING

When India became independent in 1947 the population was only 37 crores and the union budget was only Rs. 162 crores. In 2015 the population is above 127 crores and union Budget is more than Rs. 14 Lakhs Crores.
In 1947 - 70% of the population were in villages and only 30% in urban areas. Now the trend is reversing and by 2020, 70% urbanization will take place and we require another 500 Tier II & III cities to accommodate these trend of movement of the population from villages to urban areas.
In the 12th five year plan, the total plan outlay for construction is more than US $1 Trillion (equal to more than Rs.65 lakhs crores), which has to be spent over a period of 5 years. To achieve this, we require new Air ports, Sea Ports and National Highways, High-speed Rail way corridors etc.
Our current target of road development is more than 27KM per day, and simultaneously works on Metro Rails, Mono Rails, Elevated Highways etc are going on in the country . These are required to augment the infrastructure development.
On top of this, nearly 32 million housing units are in short supply in the country as of now. As the above figures point out a rapid growth in the economy is required and the present slow growth of 4 to 5% will be replaced by a growth rate of 8 to 9% in coming years.
All this expected growth will lead to a high growth prospects for civil construction. There will be more and more demand for soil investigation & piling jobs, especially on the infrastructure sector. Whoever is able to provide cheaper solutions to problems will survive.
When we compare labour costs in Delhi, Mumbai, Chennai etc., the labour costs is about 100% higher in Kerala and correspondingly, the piling cost is also high.
There is a difference in cost of nearly Rs. 500/- per Sqft on built-up area between Delhi, Mumbai, Chennai and Kerala. The solution to this problem is to increase our quality and efficiency.
Geo technical and foundation Engineering field is full of challenges on a day to day basis and everybody should analyze the problems with a positive attitude.
My principle for the last 50 years in this field is "IF THERE IS PROBLEM THERE IS A SOLUTION. IF THERE IS NO SOLUTION, THEN IT IS NOT A PROBLEM; BUT IS AN ABSURDITY".
If it is absurdity, then you have to look around for the men and material involved in the job and analyze these and fault can be located and solution found.
There is a shortage of skilled workers in the country and we have to continuously educate the labour force . After all, "skill development involves the will to kill the fear in you".


SPECIAL NOTE & VISION 2022:
A particular economic activity in life of a nation plays a pivotal role in propelling its economy into higher gear. So is the case with India. If Information Technology (IT) and IT enabled services played important role in economic development during nineties and created substantial job opportunities besides bringing much sought after foreign exchange, 'Housing for all by 2022', 'One Hundred Smart Cities' and 'Urban Renewal Mission' entailing initial investment of Rs 4 trillion along with massive world class infrastructure development is going to be the game changer hence forth. Each of these economic activities contribute average 8% to G.D>P. at present and employ about four and half crore workers. It is expected that their contribution to G.D.P. would reach to more than 10% each, in coming years and would employ 76.60 million workers by 2022. Increased activity in both these sectors would also positively affect working and profitability of more than hundred dependant industries.

Construction – infra and housing industry, needs to change its present method of execution of outsourcing its various activities, from employing labour contractors to engaging specialized foundation, superstructure, finishing etc. contractors for better quality in shorter time space.

Construction contractor is an assembler of various outsourced activities, similar to automobile industry, which are mere assemblers of various auto-component parts. Encouragement to auto component parts by automobile industry ensured quality, low inventory and reduced working capital requirement. BAI, CREDAI, CFI and NHBF need to encourage development of specialized contractors to bring down working capital requirement, speedier completion and thereby bring down high mortality rate in construction industry.

Industry also needs to encourage use of alternate material to sand, cement and stone aggregate. Industry needs to encourage establishment of precast building components, skilling workers to increase their productivity and save wastages. Government on its part needs to ensure granting low interest rate long term loan to both these sectors from Banking, Insurance Fund and Provident Fund.
PILING VIDEO